Aging Like Fine Wine!
Almost 90 percent of people over age 65 want to stay in their homes for as long as possible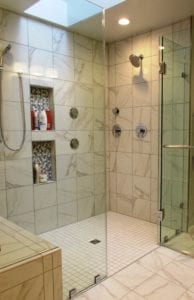 Here are some simple ideas the next time you'd like to make some changes around the house
Are you aging like fine wine?  Would you like to?  It's not a big secret that we all, hopefully, will get older.  The trick is doing it comfortably.  That's where today's topic comes in to play.  Many people say that they would like to spend their golden years in their own home and not at the retirement home. Although there are advantages to both, I would like to talk about the former and how to prepare for it.  Here are some simple ideas to keep in mind the next time you're thinking that you'd like to make some changes around the house.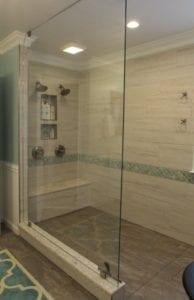 Because most accidents happen in the bathroom, let's start there
Since they say that most accidents happen in the bathroom, let's start there.  If you are contemplating a bathroom remodel, it is important to keep these ideas in mind.  Get rid of the tub and install a shower!   The shower should have a seat in it, whether it be a permanent seat made of ceramic tile or a fold-down seat made of teakwood or maybe phenolic.   Make sure that it has a hand-held shower wand and that the hose is long enough to reach the seat. The floor surface needs to be slip-resistant. This is very important!  If the floor is ceramic, you should be looking at some sort of mosaic tile for the floor.  With mosaic tile, the pieces are smaller which requires more grout, which in turn provides greater anti-slip properties.  If it's a shower pan made of fiberglass or some other composite material, make sure the surface has enough "grip" to it.  Lastly and probably the most important is grab bars.  You don't have to have them installed right away.  Just make sure there is some sort of material installed behind the tile that will allow the grab bar to be firmly secured.  As a side note, grab bars have come a long way in the last 10 years.  Long gone are the days of choosing a length was the only decision.   Today, not only are there a plethora of different lengths and diameters and shapes but also, there are many different colors and finishes and styles.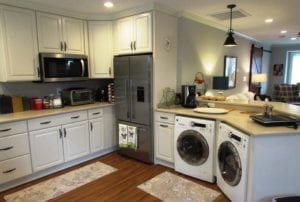 Doing some renovations before you retire can help make your house more accessible and safe

 
Outside of the bathroom, it is extremely important to think about reducing tight areas and small doorways.  Many older homes have 24" door openings, especially to the bathroom areas.  You'll want to make sure that your door openings are at least 32" wide.  36" would be optimal if you have the room.
Here's a very simple and inexpensive upgrade. Make sure all your door handles are of the lever type.  They are much easier to grip than the round knobs.  This goes for faucets as well.  Avoid faucets with round knobs and look for faucets with lever style handles.  Better yet, look for single lever faucets instead of the two-handle variety.
Let's move to the kitchen and see what would make life easier in there.  The first thing is under cabinet lighting.  Personally, there can't be enough light for me in this area.  I want to see what I am doing.  I want to be able to read recipes and make sure that my knife is cutting what it's supposed to be cutting and not my finger.  Although it takes up counter space, having a microwave above the stove presents its own set of challenges.  Any time that you are reaching or working above a stove, the potential for fires increases.  Not to mention, sometimes pots are a little too heavy to be lifting up that high.  The last thing that I would like to mention in the kitchen is probably the easiest.  Change the door hardware from knobs to pulls.  Pulls are much easier to grasp and can be a nice upgrade to any kitchen.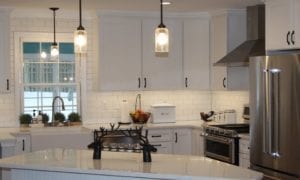 That should do it.  Nothing too crazy!  We didn't even get into first-floor master suites and indoor elevators.  We'll save that for another time. Enjoy Aging Like Fine Wine!