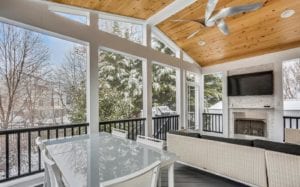 The New Normal For Home Remodeling
On behalf of all of us at Talon Construction, we hope that you and your family are staying safe during these difficult times. We are very appreciative of all the health care workers and first line responders who are working hard amid very trying conditions. The "new normal" for home remodeling is that people are upgrading their existing living spaces because we have more of the population working from home
The "new normal" is a phrase that we have been hearing quite a lot lately. We, at Talon Construction, have been taking the COVID-19 pandemic very seriously and have been busy dovetailing our own protective measures with those that our local, state and federal leaders have implemented. We are using existing technology and safe-distancing guidelines to protect our clients as well as our employees.
Design Build from your own home
Our design-build process has been re-vamped to include more protective measures. During in-home visits, our consultants and designers will be wearing mouth coverings and observing all social distancing protocols. Including keeping a 6 foot distance between all interested parties. When it comes time for the presentation of the designs, we have been using 3D virtual presentations. No matter what part of the home, our designs via Skype, Zoom or other platforms have not suffered in the least. Think about this…… You are sitting in the comfort of your home seeing your home renovation come to life before your very eyes. It may start out as an intriguing 2D floor plan, but as it progresses, and begins to unfold into a realistic 3D virtual walkthrough of your space. Which can be viewed from almost every conceivable angle and point of view.
Field Safe Practices in the current environment
In the field, we have been limiting the number of trade professionals in the space at any given time. Our employees have been given hand sanitizer and antiseptic wipes to wipe down hard surfaces upon leaving the site. We will be installing vertical containment in the form of plastic sheeting to minimize the spread of dust. Which inherently, will minimize the spreading of germs.
One last item to mention. Because we now have more people than ever before working from home. The current "new normal" is homeowners are noticing more improvements that can be made to their home. Now with things moving a little slower. It might be the perfect time for you to explore some of those renovations ideas.  Like a new home office, or a new addition or basement remodel. So, if you are so inclined to enter into the renovation design-build world, please reach out to us and find out how we can serve you both honestly and safely!