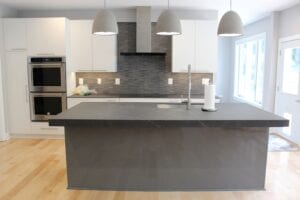 Why Design-Build is the best way to remodel your home
What are the advantages of design-build over the conventional remodeling process? This is a great question. With over two decades of experience, we would like to point out why the design-build process is the best way to remodel your home.
Everyone is on the same team
Everybody involved is in the project together. We all have the same objective to arrive at a successful end result that meets or the client's expectations. When challenges or problems emerge on a project (and there are always problems). Blaming others is not an option, at Talon Construction everyone rolls up their sleeves and works on solutions.
Total accountability
One organization is responsible and accountable for everything. This includes how the end result will look and function. In addition to how much it costs and how long it will take to complete. When the team that designs the project also builds the project there becomes a more detailed and focused product. Accountability, from the permit and processing fees, to the construction costs and management, and everything in between. Design-build focuses on results, not excuses.
Continuity
A design-build remodeling company is involved from the start of the project to its completion. This adds a permanent and inseparable quality to the project. The chance for things to fall through the cracks is greatly diminished or eliminated completely.
Expertise: Design-build firms are experts
We have over 20 years of experience in the remodeling of existing homes. An understanding of how to price the work associated with the project and the sequence of how they go together. With the knowledge of the ever changing permitting procedures and building codes of each municipality.
Beware of contractors with no home remodeling experience
In this current economy, new home builders trying to sell themselves as remodelers with no experience working in existing homes. Likewise, we are seeing smaller outfits, like pickup Pete, claim to be accomplished at design-build remodeling.
3D renderings allow clients to follow the design process in an easy-to-visualize manner
A 3D rendering brings a design to life before a project begins construction. It is the art of creating three-dimensional images that show the attributes of a proposed architectural design. The greatest benefit is the Homeowner can see exactly how their dream home goes from blueprint to reality. These renderings illustrate depth, dimension, and scale far more effectively than plans or sketches. They are also very useful in planning interior design, even down to the placement of furniture or light fixtures.
Professional remodeling guide
We've all heard the horror stories when design and construction go rogue and unclear to what is actually getting built. Design and construction shouldn't be chaotic or stressful. A design-build company is a guiding light for clients throughout the process to achieve the best possible outcome. Remodeling that refines a system from start to finish and manages the chaos into orderly steps.
Involvement is key
Design-build operates with the client as an active participant in the design and construction of their home. By being involved through design they receive the final product desired and the satisfaction of their vision being attained. Getting our clients involved with their project is inspiring and also gives them a lasting sense of pride about their home. This also removes the big egos and blowing past the budget so common in the design industry. Our clients have control over the project and design with the Talon Construction team there to empower and coach them.
Design-build is transparent
Additionally, our communication is open, honest, and often to better understand the process. Also keeping you informed to what is happening at all times. The best collaborative efforts work, not because of being told what you want to hear, but being told what you need to hear. Through clear communication the budget and design is defined early on so there are no surprises along the way.
Time Management
Design and construction involve managing many timelines that need to be coordinated in sync. This creates opportunities for clients to be a part of big decisions, to ask questions, and consider their options. Conventional wisdom says, if you make changes it will cost you more which is not the case in design-build. We are confident that if you design-build your next project you will "Fall in love with your home all over again."